U.S. Embassy Design Program
Designing for Global Diplomacy
Client
U.S. Department of State
Locations
For each embassy, our designs respond to the architectural history of that location; implement the most environmentally sustainable standards for the local area; and embody U.S. diplomatic ideals.
Barbados
U.S. Embassy – Bridgetown
Pre-colonial design elements mix with modern architectural components, such as bright colors to differentiate scale and volume. Deep shading devices protect against the tropical sun to form a welcoming and graceful American diplomatic presence. In addition to contextual sustainable strategies gleaned from the local climate, the 86,000-SF facility meets LEED Silver standards.
Indonesia
U.S. Consulate – Surabaya
Drawing inspiration from indigenous temples and ancient gathering spaces, the design successfully represents a cultural bridge between local context and a 21st century American ethos. One of six buildings on the U.S. Consulate Complex campus, the 59,500-SF facility meets LEED Silver standards, with sustainable design elements, including native plant species for landscaping to reduce water consumption and heat island effects, light shelves to allow daylight into 75% of interior spaces, and a complex storm water management system specifically designed for this flood prone region.
Kyrgyzstan
U.S. Embassy – Bishkek
The design reflects a 21st century partnership and U.S. diplomatic ideals. The facility shows the United States' commitment to a close and cooperative relationship with the Kyrgyzstan government. The compound consists of a 139,000-SF new embassy office building, Marine Security Guard Residence, a warehouse building, and utility and service buildings.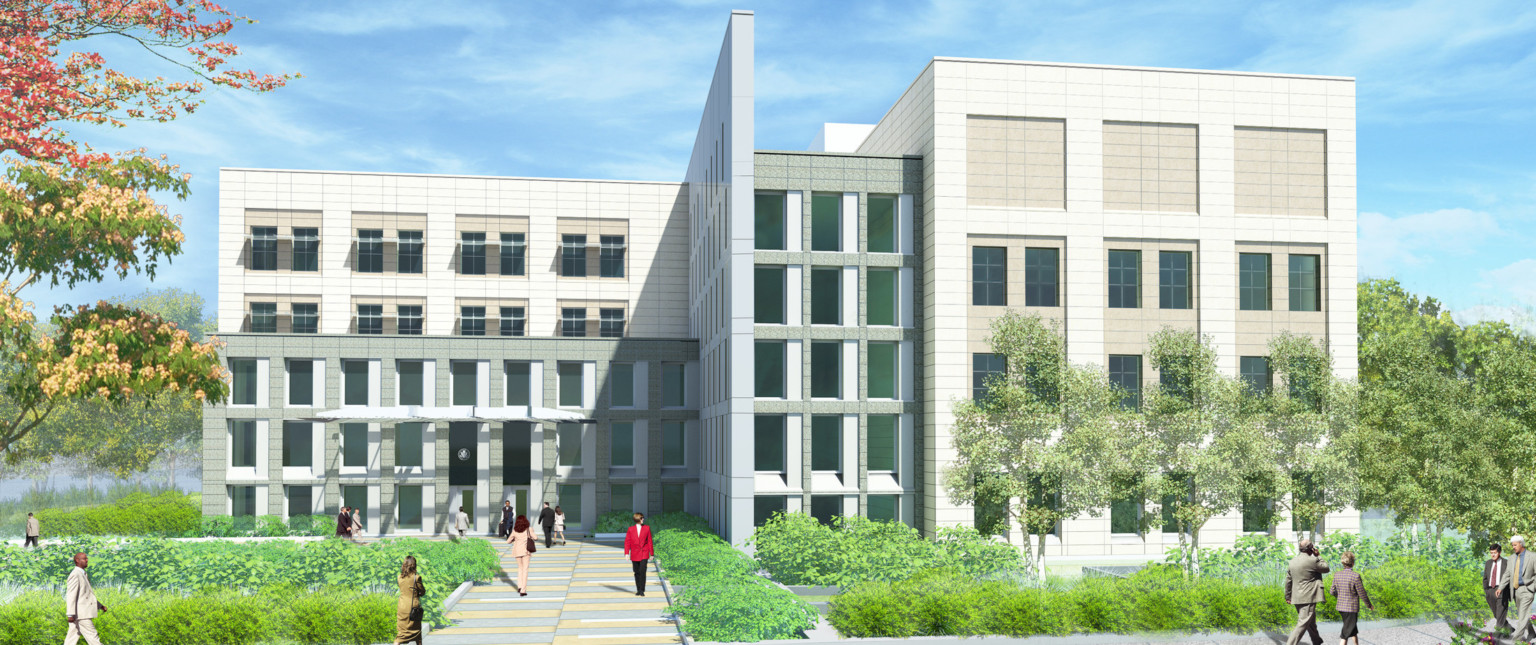 Gabon
U.S. Embassy – Libreville
The design takes inspiration from the local decorative art styles of contrasting geometric patterns of light and dark to develop a subtle, yet modern interpretation of the community aesthetic. The 59,000-SF facility symbolizes a respect for, and integration of local culture while serving as a tangible presence of the United States.
Kingdom of Saudi Arabia
U.S. Consulate – Jeddah
Located on the Red Sea, Jeddah's historical and religious roots are reflected in the architecture of the U.S. Consulate through the use of large canopies and traditional design elements. The site is organized into public access, private access, and office and service access zones, separated by structured or landscaped delineations. Landscaping throughout the campus is indigenous and well adapted to the site with plantings that are tolerant of the local climate and recognized for low water requirements.