Careers
We foster a culture that incentivizes collaboration. Driven by opportunity, we make decisions that impact not only our success but also our clients and partners.
DLR Group is an integrated design firm and  is 100% employee-owned with all stock held within an employee stock ownership plan, or an ESOP. Employee-ownership has been part of our corporate structure since 1978.
We have industry-leading design talent in our client sectors, disciplines, services, and leading our offices around the world."
Equity
Design as a Tool for Change
Our ambition is to use our collective design voice to bring about a better society and create stronger communities.
Core Values
Our values have been foundational to our success for more than 50 years and continue to guide our decision-making. Values signify what we stand for, what we demand from each other, and are building blocks that sustain our brand promise to elevate the human experience through design.
Commitment + Sharing
We Are Dedicated
We are dedicated to everything that we do, from start to finish. Collaboration and knowledge sharing is at the core of our design approach. We share what we know with each other, with our peers, and with our communities to foster an involved culture.
Fun + Creativity
Work Hard, Play Hard
We are curious and push the boundaries of what is possible by using design thinking to meet the needs of our clients, our communities, and our planet. All the while enjoying the journey celebrating our collective and individual successes.
Environmental Stewardship
Designing a Sustainable Future
At its core, it's about taking care of the planet on which we live. The built environment that we design and put in place does have an impact on the environment, so part of our job is to help mitigate the impact that our work has. Whether that's reducing or offsetting, we are committed to guarding and revitalizing the resources of our planet. In this way, we look out for the quality of life for future generations.
Integrity + Ownership
We Represent What We Do
We stand up for what is right, never waver in the face of adversity, and act ethically and honestly in every interaction. There is a collective knowledge amongst us that everything that we do and put out into the world is not just representative of us as individuals on the design team but of the firm collectively.
Teamwork
We're In This Together
Design excellence would not be possible if we did not work together. It's much more than coordination, it's about true collaboration. The result of our integrated design teams – architects, interior designers, engineers, planners, researchers, and more – working together is design excellence for our clients.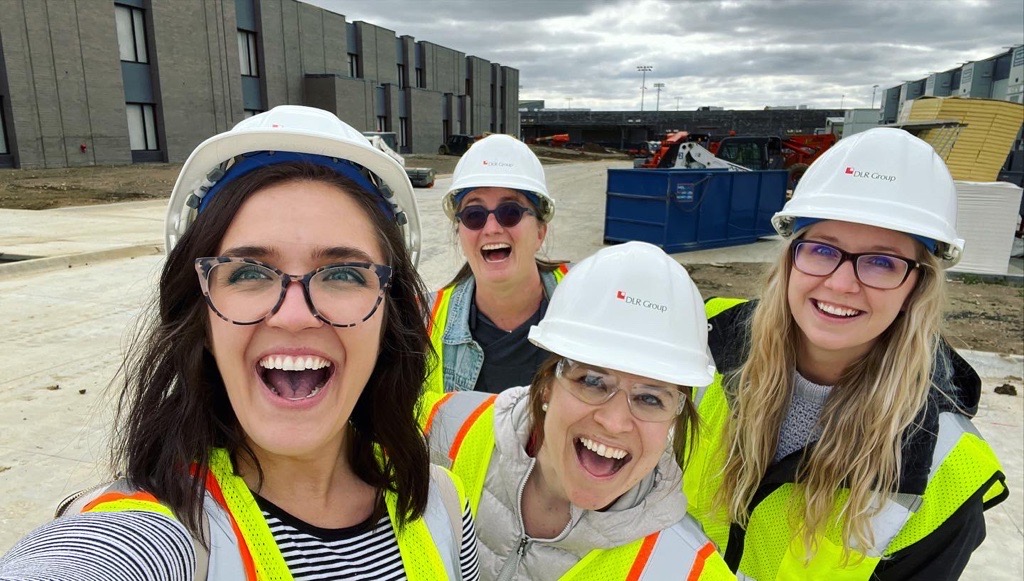 Emerging Professionals
Growth as Emerging Professionals
The emerging professionals' experience is an opportunity for interns and new grads to gain a perspective on the holistic nature of design and the potential for experiences and growth at the firm.
Be An Owner
DLR Group is 100% employee-owned with all stock held within an employee stock ownership plan, or an ESOP. Employee-ownership has been part of our corporate structure since 1978, and we have been 100% employee-owned since 2004.
Annually, the first 8% of EBITDA profit is returned to all employees. Ownership in the firm is equitable with no one individual owning more than 4% of the firm, and any employee can purchase shares of the DLR Group ESOP during an annual stock exchange.
Notice to All Applicants
DLR Group provides equal employment opportunities (EEO) to all employees and applicants for employment without regard to race, color, religion, sex, national origin, age, disability, or genetics. In addition to federal law requirements, we comply with applicable state and local laws governing nondiscrimination in employment in every location in which the company has facilities. This policy applies to all terms and conditions of employment, including recruiting, hiring, placement, promotion, termination, layoff, recall, transfer, leaves of absence, compensation, and training. We expressly prohibit any form of workplace harassment based on race, color, religion, gender, sexual orientation, gender identity or expression, national origin, age, genetic information, disability, or veteran status.
Due to fraudulent activity by individuals impersonating recruiters and business entities, anyone who receives communication requesting personal information from such accounts should remain cautious before responding. DLR Group will never conduct interviews via chat messaging platforms or ask for a social security number or other personal information prior to employment.
Notice to Third-Party Agencies and Recruiters
DLR Group does not accept unsolicited resumes from third-party recruiters or employment agencies in any form and is not responsible for providing candidate feedback or payment of recruitment fees associated with the introduction of a candidate, receipt of a resume, or any related information that was not specifically requested in writing.
If a recruiter or agency submits a resume, candidate, or any other information on a candidate without a prior executed, written agreement in place, DLR Group retains the right to consider and hire candidates without any financial commitment or obligation to the recruiter or agency.