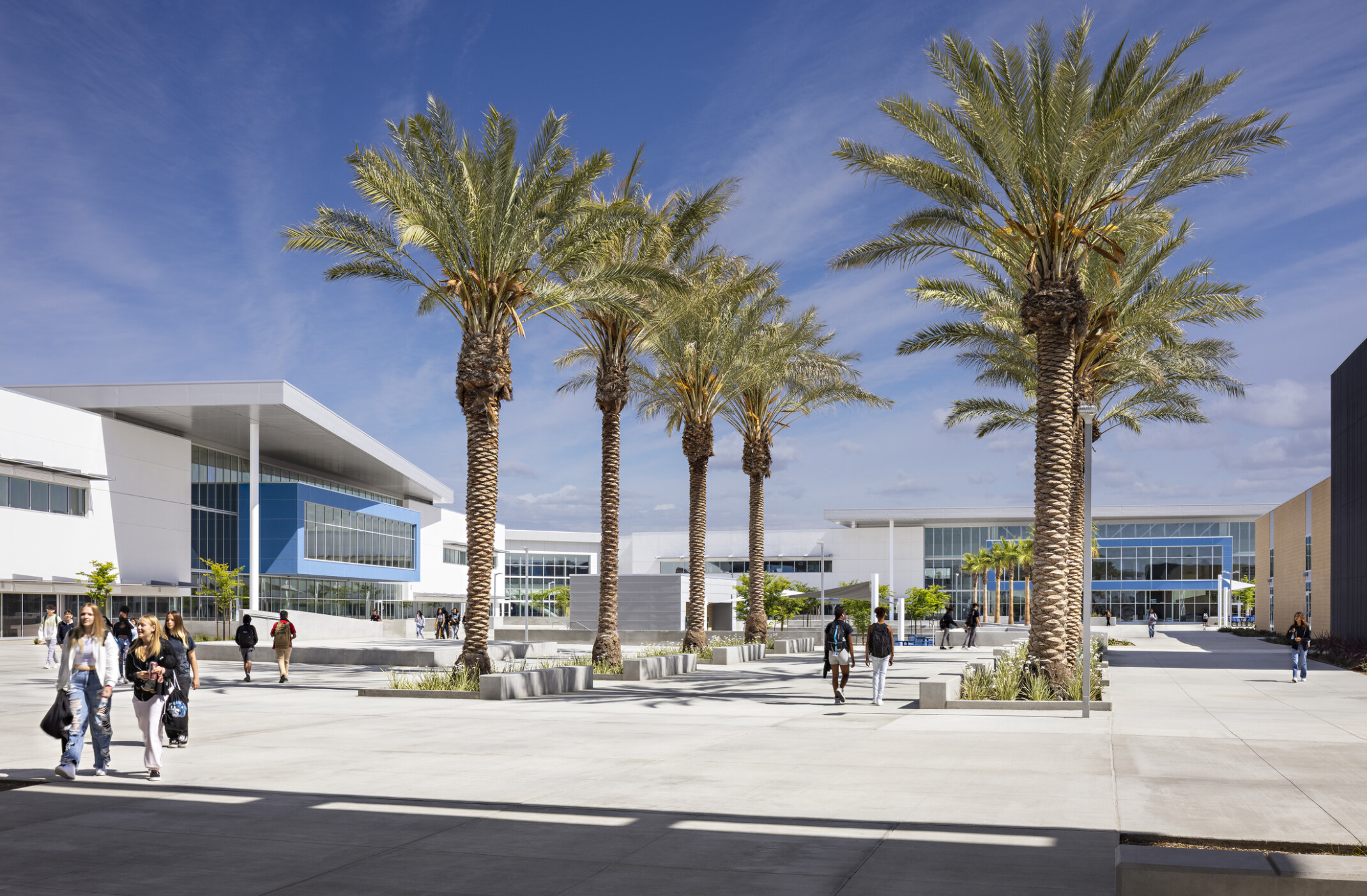 Liberty High School
Personalizing Education through Choice, Connections, and Comradery
Client
Perris Union High School District
Project Location
Winchester, CA
Building Connections by Design
Our design team carefully integrated spaces to maximize flexibility, collaboration, and socialization throughout the campus. These three core elements combine to create a place where students want to be and an environment that ensures all students are successful in their educational journey.
Flexibility
Personal Choice
Students can move comfortably between group instruction, individual research, project team activities, and applied learning labs. They can take advantage of both interior and exterior circulation paths within their SLCs to arrive at their desired location.
Transparency in the design allows for ease of supervision as students move in and about campus, utilizing the entire site for learning. Additionally, the campus' linear plan allows for the shifting of teaching stations to and between adjacent SLCs while retaining proximity during enrollment fluctuations.
Collaboration
Teamwork
SLCs are designed around open collaboration rooms on each floor that serve as the nexus of group learning. A series of outdoor and indoor spaces in key locations offer students multiple options to complete their work where they are most comfortable.
Professional centers resourced with lounge-styled furniture, shared workstations, white boards, and conference rooms enhance the ability for teachers to explore programs and teaching strategies. These dedicated spaces bring educators together as a team to develop inter-disciplinary lessons for their students.
Socialization
Student-Centered Culture
Re-envisioning the library as a learning commons creates a collaborative learning environment able to host small and medium sized groups. While the learning commons is intended to be a loud and lively space, private project rooms are available for students and small groups that desire a quiet environment.
The student union is a multi-use environment that serves as the social hub of campus. It is easily supervised both indoor and out through expansive glass walls.