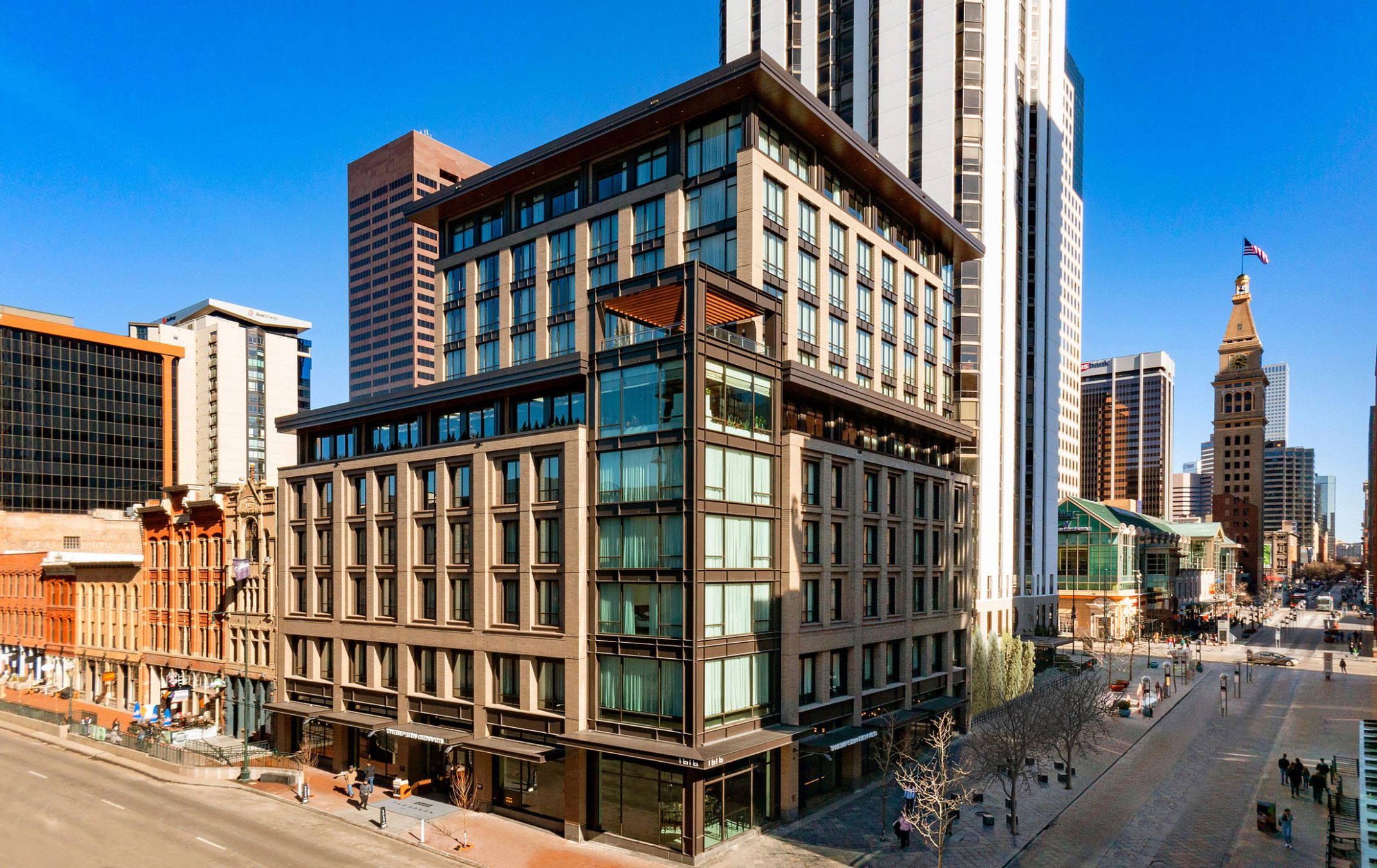 Thompson Hotel Denver
Lifestyle Hotel Anchors LoDo District
Project Location
Denver, CO
Services
Architecture, engineering
A Nod to the Past
In the 1860's the Denver Tribune headquarters occupied this site, in many ways serving as the epicenter of the growing city's breaking current events, popular culture, entertainment, and sports. Nearly 100 years later the building was demolished: the home of a city's voice lost to a surface parking lot. Today, the new Thompson Hotel welcomes guests and residents as Denver's social destination. The Thompson presents a straightforward, industrial modern material palette. Inspired by the black and white contrast of newsprint, ivory bricks contrast with blackened steel framing and mullions. The hand-crafted feel of masonry matches the neighborhood's industrial roots. Inside, architectural features veer toward brutalism, with concrete columns adorned with roughhewn wood and raw metal accents.
Community Connection Point
The hotel connects people to place by bringing community connections back to a prime urban core site. Hospitality for the next generation isn't about walling off the community: the Thompson's public amenities welcome the community at all hours of the day. This "lighthouse" tower invites passerby in to enjoy the street-level lounge, coffee bar, or highly anticipated French bistro, Chez Maggy. From the main lobby, an express elevator whisks visitors to a mid-level lounge/bar with dramatic views of its Colorado context.
The substantial heaviness and sculptural qualities of the natural environment are reflected in a lot of the design decisions."
Awards
2023 Platinum: Lifestyle Boutique Hotel
Muse Hotel Awards
2023 Top Hotels in Colorado: Readers' Choice Awards
Conde Nast Traveler